MESSAGE FROM VICE-CHANCELLOR
I have pleasure in talking to you through ITIHAS. In the recent past, many changes have taken place at the national level - the newly formed National Manufacturing Competitiveness Council (NMCC), which would pave way for better infrastructure and job opportunities, the promising second IT boom, the successful launch of EDUSAT which will propel India into a leadership role in distance education over satellite, the UGC's plan to set up Entrepreneurship Development Cells in Colleges and Universities and so on. All these, I believe, will have a positive impact on higher education.
SASTRA, which is always aware of the national and global scenario and the consequent challenges posed by it, has chalked out quite a few significant plans. The MoU signed between SASTRA and Swiss German University has facilitated the students of B.Tech. (Mechatronics), B.Tech. (Mechanical Engg.) and MBA to undergo 6 months internship in German Industries, during their course of study. To mould our students as job providers rather than job seekers, SASTRA has announced an Entrepreneurship Development Programme.
The Srinivasa Ramanujan Centre has been brought under the ambit of SASTRA as an off-campus centre of the University by the Government of India recently.
Many top notch companies have visited SASTRA during this quarter for campus selection, and selected an unprecedented number of students. SASTRA is in the process of becoming a major training institution. Over 100 faculty members who joined SASTRA in June 2004 have been given Induction Training in Teaching Methodology and Communication Skills and along with a Refresher Course in Remedial English.
On behalf of the Management, the Staff and the Students of SASTRA, I pay homage to the victims of the fire accident at a School in Kumbakonam.
Wishing the readers a Happy Dussera and Diwali.
Prof. R. SETHURAMAN
Vice - Chancellor
SRINIVASA RAMANUJAN CENTRE
ATTACHED TO SASTRA
The Government of India in its notification dated 6th Sep'2004, declared that the Srinivasa Ramanujan Centre (SRC), established by SASTRA at Kumbakonam, is an off-campus centre under the ambit of SASTRA Deemed University, Thanjavur. This achievement marks the beginning of yet another journey towards academic excellence.
INTERNSHIP FOR SASTRA STUDENTS
IN GERMAN INDUSTRIES
Prof. R. Sethuraman, Vice-Chancellor, SASTRA along with Dr. S. Pugazhenthi and Prof. D. Srinivasan of the School of Mechanical Engineering, SASTRA visited the Swiss German University (SGU), Indonesia on 23rd and 24th August 2004 for a discussion on the collaboration that SASTRA has with SGU. One of the outcomes of the discussion was that select students of B.Tech. (Mechatronics), B.Tech. (Mechanical Engg.) and MBA of SASTRA, Deemed University will undergo 6 months internship in German Industries, during their course of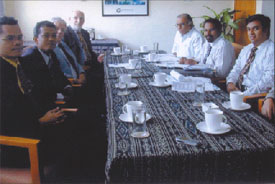 Our Vice-Chancellor and Professors from SASTRA
seen with the authorities of SGU